Words by Kirstie Pickering
Commercial partnerships are relationships between business entities and other parties that increase the likelihood of the former acquiring large volumes of new business and access to new client opportunities.
Nexus, which recently opened the Shelby Bar in New York is partnering with Signature on a range of branded lounges 
that would otherwise be unavailable. Such partnerships are common in consumer retail. Classic 
examples include Nike and Apple with the Apple Watch Nike+ and GoPro and Red Bull or video games company Electronic Arts and Tiger Woods.
Commercial partnerships are invaluable in business aviation too, with a growing number revealed in recent years. By partnering with high profile names and companies, aircraft charter companies' potential reach to new customers is significantly expanded.
Airshare is a charter and aircraft management company based in Kansas, US. The company recently announced 
the renewal of its partnership with Patrick Mahomes, quarterback for NFL team Kansas City Chiefs. The partnership has been ongoing since June 2018. "Airshare is a long-term partner of the Kansas City Chiefs organization, 
as well as the team's head coach, Andy Reid," says Andy Tretiak, chief marketing officer at Airshare, who is also responsible for partnerships at the company.
"Prior to the 2018 season, we were introduced to Patrick's agent and we expressed our interest in having 
him represent our company. We believed this would be 
an outstanding partnership for both parties, as Patrick was entering his first year as starting quarterback and expressed a desire to be as efficient with his time as possible, along with wanting his family to be able to see every home game."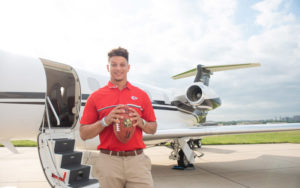 Airshare believed that Mahomes' engaging personality and leadership role with the NFL team aligned perfectly with its ethos. In addition, the aim was for the association with the American football player to help generate more publicity for the company after a recent rebranding exercise changed its original name of Executive Airshare to just Airshare.
"We knew the services we provide would be a huge benefit to both Patrick and his family," says Tretiak. "The more he flew with us, the more he realized how much time we were saving him. It became very easy for him to communicate the benefits of Airshare to our customer prospects, as he had become an active customer himself. 
"It's a point of pride for Airshare to partner with such an incredible individual as Patrick, who is just as impressive 
off the field as he is on it. Additionally, it's become a 
great story for us to tell in 
terms of how Airshare plays 
a role in helping him balance 
all of the demands of being the reigning NFL most valued player. 
"Our association with him has 
been instrumental in the increased visibility our brand has received over the last year."
Owner of the largest network of FBOs in the world, Signature Flight Support is another business aviation company that understands the value of commercial partnerships. The company announced October last year 
a partnership with international hospitality real estate development and asset management company Nexus Luxury Collection. Nexus was founded by Joe Lewis and his Tavistock Group, golfing greats Tiger Woods and Ernie Els, and actor and musician Justin Timberlake. The multi-faceted relationship between Nexus and Signature includes the launch of a series of private, branded lounges called the Nexus Sky Lounges. The first Sky Lounge is expected 
to open at Teterboro Airport in New Jersey at the end of 
this year.
"The collaboration with Nexus is coming from a plan developed three years ago," says Shawn Hall, chief commercial officer at Signature Flight Support. "We took a step back, saw we had this amazing backbone as the world's largest network of FBOs and then started to consider how we could bring more to customers by leveraging partnerships.
"We went out to develop and expand the business and started to involve third parties more and more.
"With a portfolio of luxury resort, club assets and experiences around the world, Nexus recognized us as having the right brand and the right people flying through 
our FBOs to make the partnerships worthwhile for them too.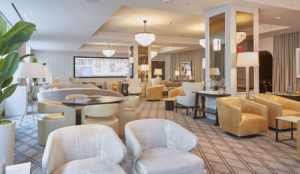 Nexus opened a private members 
club in lower Manhattan, New York in May and is currently in the planning stages for additional city clubs in key markets across North America, including in Toronto.
"Nexus has an incredible group of affluent, discerning members across its portfolio," says Hall. "The company is increasingly rolling out luxury clubs, real estate and properties across North America and around the world.
"Our partnership with them is merging the great experience they're offering their members with the great experience we are offering passengers travelling through our network.
"The win for us is in doing something that adds value for our customers. The Nexus network is a strong group. The partnership allows us to differentiate 
and enhance our passenger 
experience."
The co-branding 
with Nexus is the first in a series of partnerships 
Signature is planning, with more set to be announced 
later this year.
Choosing the right type of commercial partner is crucial. It is 
important that a partnership is mutually beneficial and that each company complements the other's brand 
ethos. Without the latter, a customer can 
become confused about what a company is 
really offering.
"We take a very critical eye on brand 
DNA," says Hall. "When deciding on a partnership, we consider whether we have the same brand values and consumer facing goals.
"The brand has to have the same DNA and that's when you can get into the magic of creating value for customers and each brand getting benefit."
Guaranteed exposure is a key benefit for 
charter companies entering commercial partnerships. 
When a partner is a high-profile individual or has a global customer base, sharing images or anecdotes linked with the partnerships on social media provides instant exposure for 
a company. A photo on Instagram showing a branded private jet, for example, could equate to thousands or even millions of dollars of new business.
"Strategic commercial partnerships 
raise awareness of our value proposition 
to prospective customers," says Airshare's Andy Tretiak. "In our case, they promote how Airshare plays a key role in managing 
a demanding schedule while maximizing efficiency and maintaining a customer's desired lifestyle, both personally and professionally. They also provide us with a platform to showcase why we are different to our competitors within private aviation.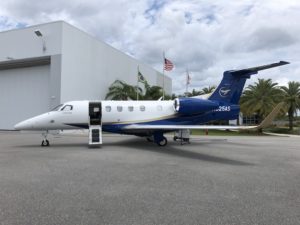 "Commercial partnerships should always be considered based on their 
strategic fit with your brand, not due to their popularity or affinity among key 
stakeholders. You have to be able and willing to put resources behind 
the activation of the partnership to 
generate a true positive return on investment."
Signature's Shawn Hall agrees, noting that finding the mutual win is 
the most vital step when considering a new partner deal.
"The most important win is that it has to be good for the customer," he says. "If our passengers and customers are happy then that's great for our network. If you find a win for yourself and for the third party also, then you've really hit the jackpot."