BAI recently sat down with Jeff Briand, vice president, Global Operations at World Fuel Services, to discuss the importance of prioritizing effective communication through a global network of operational centers and technology solutions, ensuring seamless international trip planning and aligning with evolving industry trends.

World Fuel Services has been a key player in the aviation industry for a long time. What specific trip support and planning services does your company offer to business aviation companies, and how these services contribute to operational efficiency and client satisfaction?
Even with the dynamic landscape of today's interconnected world, successful trip support still hinges on effective communication. When things are smooth, communication matters, and when they aren't, it becomes crucial. Our unwavering commitment to accurate and timely interaction sets World Fuel Trip Support apart.
So, how do we excel in this? It starts with having people at your destination. With fully-owned operational centers strategically located across the globe – from the United States and Mexico to São Paulo, Geneva, Singapore, Shanghai, and Johannesburg – we ensure local coverage, cultural understanding, and language proficiency. This level of local support enables us to know what the situations in the region are faster and allows for more effective problem-solving, especially those shaped by diverse regulations and language barriers. Our Global Vendor Team is assessing every handler and vendor to understand the reality of every airport. Through regular audits and annual visits, we scrutinize handlers to maintain the highest service standards.
We combine all this knowledge and make it accessible through our trip technologies and operations centers. Our proprietary trip management system acts as the hub where information converges from our 17,000 vendor locations, eight global storefronts, and 600 global sales reps and operational experts. This data-rich environment supports our 24/7 operations teams and trip technologies like myWorld App for iPad, Online Flight Planning, and Trip View, empowering you to track your process in real time.
This steadfast focus on getting situational awareness to our operators in a timely fashion in whatever environment they are in is the core of how World Fuel Trip Support operates.
The business aviation sector is witnessing constantly innovating. What recent trends have you observed in trip support and planning, and how is World Fuel Services aligning its offerings to meet the changing needs and expectations of the industry?
A huge challenge globally is protecting customer's privacy and data. Safeguarding against sophisticated hackers and bad actors has become paramount. World Fuel Services dedicates substantial resources, investing millions annually, to fortify data security. We're resolute in prioritizing the privacy of sensitive customer information, like passport numbers and personal details. Our forward-looking security approach sets us apart – always adapting to emerging threats. We approach security not as a fixed target but as an ongoing process, continually enhancing our measures to provide our clients with steadfast protection.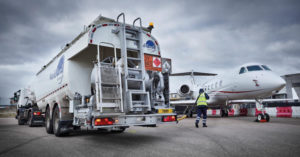 Global sustainability and environmental considerations are increasingly influencing decision-making across industries. How does World Fuel Services address these concerns within its trip support and planning solutions?
Global sustainability and environmental concerns are shaping decision-making across industries, including aviation. We have built our whole company around helping our customers achieve sustainability in all their operations it was one of the reasons why we changed our parent company name from World Fuel Services Corporation to World Kinect Corporation. Over the past ten years, we have built leading renewable fuel and sustainability capabilities, helping our customers on their energy transition journeys. We have integrated this completely into our offerings to flight departments and World Fuel Trip Support.
Lowering carbon footprints is a priority. We make renewable options accessible, like Sustainable Aviation Fuel (SAF) and Book and Claim (SAFc). Through our sustainability division, we offer operators a comprehensive carbon strategy, whether per trip, yearly operations, or a broader company-wide perspective.
Our commitment is tangible. Since 2015, we've provided over 40 million gallons of SAF to aviation customers globally. We actively support the industry's target of cutting carbon emissions by 50%.
Navigating international operations can be complex due to varying regulations and infrastructure. In this context, how does World Fuel Services facilitate seamless international trip planning for business aviation companies, and what strategies do you employ to address challenges related to cross-border travel?
World Fuel Trip Support's approach revolves around our global offices, cornerstones for orchestrating seamless international trip planning. These strategically positioned offices staffed with local experts fluent in local cultures and languages are the core of navigating complex regulations and diverse infrastructure. Our Global Vendor team establishes profound working relationships with the handlers and agencies that shape and oversee these regulations, ensuring a streamlined journey.
This ties back to the essence of our services. We are on the pulse of what's happening. Our experts are right where the action is, closely connected to the ebbs and flows of regulations and infrastructure shifts. But we don't stop there. Our investment in technology amplifies our capabilities, capturing and disseminating information across our network. The local expertise and global connectivity that culminate in our proprietary trip management system are accessible to our customers through our technology landscape, ensuring that, no matter where you are or when, you're tapping into the very heart of streamlined, cross-border aviation travel.
How has World Fuel Services integrated technological advancements into its trip support and planning services? Additionally, are there any emerging technologies or digital solutions that you believe will have a significant impact on the future of business aviation trip management?
Our approach centers on simplifying your life. Our dedication to innovation is reflected in substantial research and development investments across all our aviation divisions, be it commercial, business, general aviation, or government. It's not just about access; it's about making access fast, intuitive, and meaningful. Our seamless, interconnected ecosystem processes millions of transactions annually, capturing invaluable data that we transform into actionable insights through sophisticated AI-driven data analytics.
We've constructed a technology stack that caters to every step of our customer's journey, from pre-trip planning to quotes to final invoices. These graphics-rich online tools empower you to plan trips effortlessly, monitor active trips' details, and easily request services. With everything working together, you gain comprehensive insights into your spending and travel. It's all about that one-stop-shop experience – clear and comprehensive invoices, a deep understanding of expenditure, and the ability to seamlessly integrate data into your ERP system through e-invoicing.
Our trip support team has your back around the clock, ensuring that technology and human expertise blend seamlessly to provide unparalleled trip management.
To learn more about World Fuel Trip Support, visit https://aviation.wfscorp.com/trip-support-aviation