BGR Aviation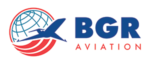 BGR Aviation is your leading transatlantic tech stop. As the first stop on the Great Circle Route, we will provide complete ground services handling and competitively-priced fuel, along with access to 24/7 no-fee US Customs & Border Protection.
With more than 50 years of industry experience, BGR Aviation demonstrates the highest operating standards both in terms of aircraft service and pilot and passenger care. Our runway, measuring 11,440 feet, is one of the longest on the East Coast and can accommodate personal and commercial aircraft of any size.
Experience our personal customer service and our newly renovated facilities offering upgraded crew and passenger amenities, like the pilot lounge, weather/flight briefing room, kitchen facility, and more. As part of our services, we partner with BGR Catering to offer full menus that include many specialty items that will give you a taste of Maine.
BGR Aviation, owned and operated by Bangor International Airport, is located at 188 Maine Avenue, Bangor, Maine 04401.