TOTAL AVIATION
Total is one of the world's biggest suppliers of aviation fuel, in France, in Europe and Africa. General aviation, business aviation, airports and airlines: each and every one of those customers receives a personal service offer tailored to its needs. In the world, Total supplies 280 airlines in 300 airports around the world.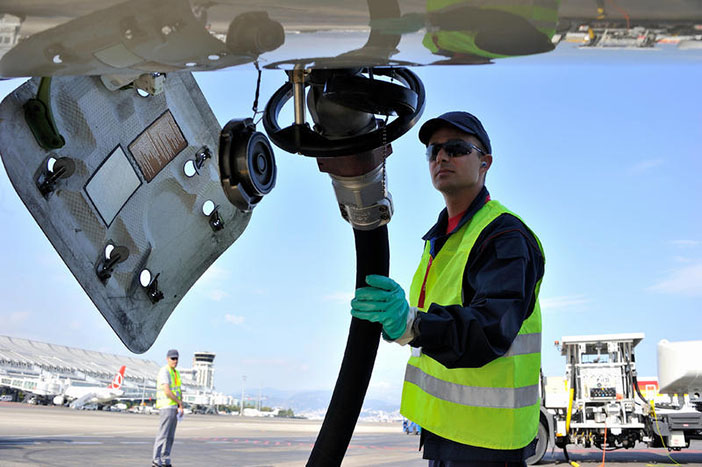 When you strive for excellence to deliver high-class Business aviation services on a daily basis and need to meet deadlines, being supported by a reliable and committed business partner becomes paramount. Your business requires reactivity, professionalism and proximity. For 60 years, Total has been committed to provide world-class service around the globe, especially to address the high standards of your activity.
Total's fuels are manufactured under the strictest quality controls and to the highest international standards. As founding member of JIG (Joint Inspection Group), Total participates in the elaboration of the standards shaping the industry. Backed by 60 years of experience, Total Aviation is the partner for the development of your airport facilities.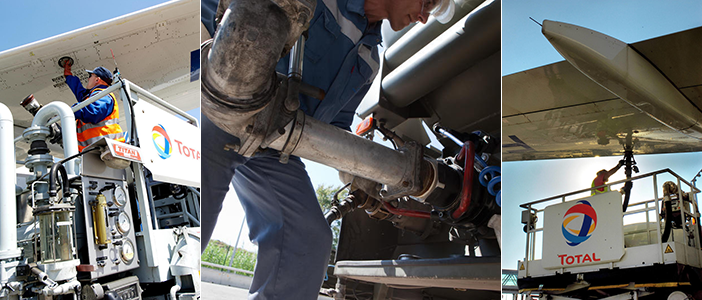 International development
2,500 refilling operations are carried out daily in the world.  Total is the market leader in Europe and Africa and now massively expands its coverage in Asia for major airport cities such as Singapore, Hong-Kong, Taipei, Bangkok, Tokyo, Osaka etc
Security at the heart of its DNA
Total group has developed a Corporate culture focusing on safety and security as a top priority to be able to respond to any issue in a timely manner.  As a core strategy, Total is an active member of the JIG and other leading organizations and technical committees such as IATA-TFG, the Energy Institute, the American Society for Testing and Materials.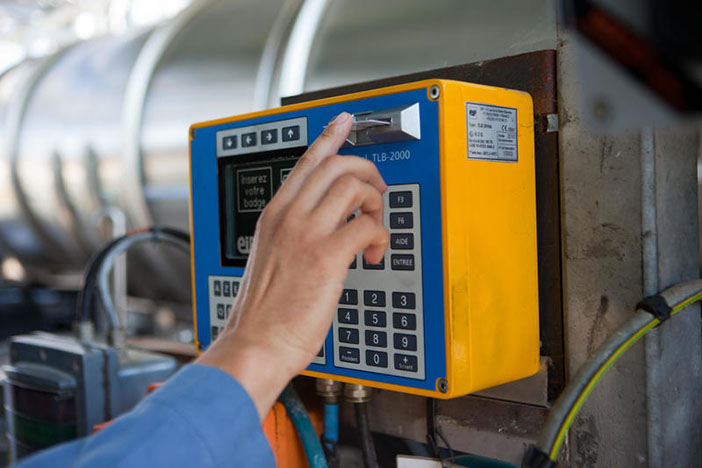 Strong expertise on aviation
The activity of Total covers the whole energy chain from exploration to production of crude oil.  Total customers nowadays are major airlines, military industry, aerospace industry, general aviation and business aviation.
Social and environmental commitment
Total develops a CSR strategy and commercializes a more sustainable and environment-friendly fuels.
Total announced its ambition to get to net-zero emissions by 2050 together with society for its global business across its production and energy products used by its customers..
Through a joint statement developed between Total S.A. and institutional investors – as participants in the global investor initiative Climate 100+1 – Total takes 3 major steps towards achieving this ambition:
Three major steps to get Total to Net Zero:
Net Zero across Total's worldwide operations by 2050 or sooner (scope 1+2)
Net Zero across all its production and energy products used by its customers in Europe2 by 2050 or sooner (scope 1+2+3)
60% or more reduction in the average carbon intensity of energy products used worldwide by Total customers by 2050 (less than 27.5 gCO2/MJ) – with intermediate steps of 15% by 2030 and 35% by 2040 (scope 1 + 2 + 3)
1 According to Total evaluation, participants to Climate Action 100+ own more than 25% of Total's shares.
2 Europe means the EU + Norway + UK
This ambition is supported by the strategy to develop Total as a broad-energy company, with oil and gas, low-carbon electricity and carbon-neutrality solutions as integrated parts of its business. Total firmly believes this low-carbon strategy provides a competitive advantage which creates long term value for its shareholders.
This strategy is already in action since 2015 as Total is the leading major in terms of reduction of its scope 3 average carbon intensity with a 6% reduction already achieved since 2015. And today it sets the highest ambition amongst the majors for its scope 3 average carbon intensity with less than 27.5 GCO2/MJ by 2050.