Words by Eugene Gerden
') } else if (width >= 425) { console.log ('largescreen'); document.write('') } else { console.log ('nompuad'); document.write('') } // -->
The Russian business aviation sector is experiencing tough times these days as Western sanctions against Russia and its citizens take effect. The decline of the Russian aviation market reached almost 70% year-on-year in 2022. Unfortunately, that is not the worst of the news for the ailing sector.
The Russian business aviation sector enjoyed annual growth rates of between 10 to 12% in terms of fleet capacity and traffic prior to February 24, 2022. The Russian sector was one of the most promising in Europe in terms of growth. However the start of the Russian-Ukraine war has put an end to the industry's plans of more active development in at least the short to medium term.
This has been recently confirmed by some leading private aviation brokers operating in the Russian market, as well as local analysts. Fikrat Rafikov, managing partner at Jetfinder Business Aviation Services said that this year the number of business aviation flights from Russia fell by roughly two thirds compared to last year due to the war and sanctions. In addition, it is also very difficult for foreign companies to work on the Russian business aviation market.
Rafikov says, "The supply of business jets in the Russian market remains at minimal levels compared to last year and some previous years. There are only Russian carriers and several Turkish ones that fly to the Russian Federation currently.
"Foreign carriers who want to work in Russia cannot because of the lack of insurance that is avialable for flights over Russian territory."
According to Rafikov, the processing of payments for flights has also become much more complicated and the cost of flights has increased significantly. He says, "Russian operators require payment exclusively in Rubles, while payments through partner companies adds a premium to the already considerable cost of the flight."
Regulation and routes
Some European operators and jet manufacturers have changed their rules and will not deal with Russians, even if there are no European Union Aviation Safety Agency (EASA) restrictions against them and they are not on any sanctions lists. Russians are also faced with serious challenges if they want to purchase business jets because as a rule, most of them are unable to do this directly due to citizenship.
According to Rafikov one such company is Bombardier, which has introduced restrictions on Russians using its jets. Bombardier has upheld the sanctions introduced as a result of the Russia-Ukraine war since March 2022, when it suspended all activity with its Russian clients.
According to most experts and analysts there are also serious problems with the routing of business aviation flights, because currently it is only possible to fly directly from Russia to those countries that do not support sanctions against it – UAE, Turkey, Armenia, Azerbaijan, Kazakhstan, Uzbekistan and others.
Before February this year the Moscow to London route was among the most popular for Russian business jet owners, including those who prefer to rent an aircraft. However, in recent months the situation has radically changed. Business flights to London and most other European cities are no longer possible for business jets from a Russian jurisdiction and those jets with any Russians on-board.
Rafikov says, "A flight to the UK from the Russian Federation is currently impossible. On business flights from other countries to the UK, it is a 100% certainty that it will be banned for landing in any UK airport if there is even one Russian citizen on board.
"Many companies make a forced political stop in third countries in order to obtain permission to fly further to EU countries. For example, Moscow to Montenegro will be carried out along the route Moscow – Turkey – Montenegro or through Armenia."
Prior to the war around 70% of Russian business aviation traffic went to and from the EU and the USA. There is some traffic growth between Russia and the Middle East, China and Southeast Asia. During September and October 2022 there was a peak increase in flights to the capitals of the Transcaucasian Republics such as Erevan, Tbilisi.
Jet registrations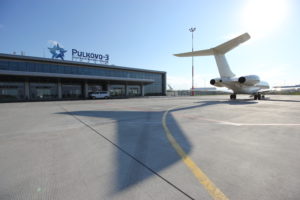 In the case of inland business flights, while the demand for them remains high, they cannot compensate for the overall decline of traffic in the industry.
According to the Russian Association of Business Aviation, traditionally around 80% of the Russian business aviation fleet has consisted of foreign, mostly offshore registered aircraft. This is because of benefits such as reduced taxation, better conditions for financing, purchases from foreign banks and generally simpler registration processes in those jurisdictions.
However, the introduction of sanctions and the seizures of business jets affiliated with Russia earlier this year forced many Russian business jet owners to act. Many registered their jets within their domestic jurisdiction, while others decided to sell them at a big discount.
While there is no official statistics, local analysts estimate around 80–90 aircraft are present within Russia, while more than 500 jets still affiliated with Russians are located at airports around the world.
In the meantime, the Russian authorities have provided support for the transfer of business jets to the domestic aviation register by significantly simplifying the bureaucratic procedures for owners.
Domestic designs
As a consequence of most business jet manufacturers suspending cooperation with Russia, plans were made to re-establish the domestic production of business aircraft within the territory of Russia. The work undertaken involves both the design and building of such aircraft from the scratch or the re-design of existing or old domestic commercial aircraft.
According to statements made by the Russian state-owned aerospace and defence company Rostec, several Russian businessmen that were forced to stop flights due to sanctions are interested in buying re-designed versions of its Tu-214 and Tu-204 aircraft. Sources in Rostec believe that at least seven of such aircraft will be sold as VIP jets in the coming months. However, implementation of these plans may be prevented by the high costs of renovating these aircraft, which are up to 15 years old, into business jets. The overall investment for these aircraft, according to various assessments, is in the range of RUB2-3 billion (US$32-49 million).
Potential buyers are also showing interest in the VIP version of the SSJ Aurus jet, a VIP version of the Sukhoi Superjet 100 commercial aircraft. However, due to its high cost (US$60-70 million), the use of engines produced in partnership with French companies and a high proportion of foreign avionics in the aircraft, these plans are highly unlikely to be implemented.
Maintenance challenges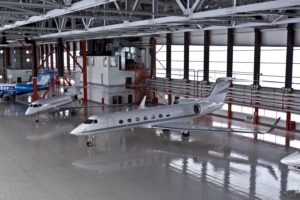 The situation in the MRO segment for business aviation is also complex.
As Evgeny Bakhtin, general director of the Jet Travel Club, one of Russia's leading private jet operators said in an interview in the Russian BizavNews publication recently, there are few MRO centers certified to maintain business jets in Russia, and none that can deal with heavy class business aircraft. This is in contrast to Russian commercial airlines, which over the past decade have established their own
well-equipped MRO centers with high levels of competence and warehouses of spare parts.
According to Bakhtin, most business jet operators are considering using MROs in countries that do not support Western sanctions as a possible measure to solve the problem. However, this is not easy given the fear of secondary sanctions. Others are considering building new MROs in Russia, although that would have associated high costs.
Currently, the requirement for spare parts is being met by dismantling temporarily decommissioned aircraft and by informal deliveries of spare parts through third countries. The use of parallel import schemes has not resulted in significant results to alleviate the need for spare parts, due to the highly bureaucratic processes.
Most Russian FBOs have delayed expansion plans as a result of the war. Currently the business aviation infrastructure in Russia is still represented by specialized terminals in Moscow and St. Petersburg. Among them are Vnukovo-3, the A-Group terminal in Sheremetyevo, UTG PA Business Aviation Center at Domodedovo, the International Business Aviation Center in Ramenskoye, as well as Pulkovo-3 and A-Group Pulkovo in St. Petersburg.
As a rule, terminal operators do not disclose their performance results. According to the Russian Federal Air Transport Agency, the Vnukovo-3 FBO remains a leader in the market, accounting for about 30–40% of all business aviation flights in Russia.
The pandemic and the ongoing military conflict in Ukraine have had a negative effect on the performance of Vnukovo and other Russian FBOs this year. Russian media reports that this summer business aviation traffic decreased by three times at Vnukovo-3 year-on-year. Before sanctions and the war, Vnukovo-3 was not only the largest FBO in Russia but also one of the largest in Europe.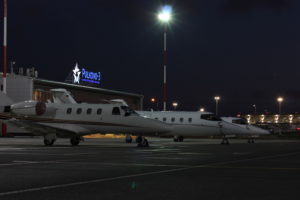 For Vnukovo-3, 2021 – before the war – was the most successful in the last six years since 2016. The terminal served 17,340 flights and 105,800 passengers – an increase of 27% and 35% compared to 2020, respectively. The share of international destinations of Vnukovo-3 accounted for about 65% of flights completed and passengers served. In January 2022, Russian market participants expected that the growth of the business flight market would continue in 2022, albeit at a more modest pace.
According to Vnukovo-3's data, past years saw typically 120–130 daily flights to the terminal. At present this figure is estimated at 30–40 flights. These are mainly flights within the territory of Russia.
Most international business flights are to so-called "friendly" countries to Russia among which are Turkey, UAE, Maldives, Thailand and other countries in Southeast Asia.