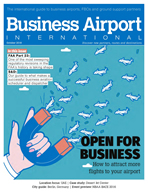 The October 2016 issue is now available online! Packed full of news, interviews and features, including:
ATTRACTING BUSINESS AVIATION : How can commercial airports successfully integrate business aviation into their operations to increase revenues?
S&D TRAINING : What makes a successful business aviation scheduler and dispatcher?
BREXIT : As the UK prepares to leave the European Union, Business Airport International asks, what could the business aviation sector look like in a post-Brexit era?