Sky Valet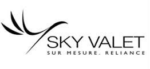 Welcome to Sky Valet, where Time and Attention are the most Precious Resources.
Sky Valet is the FBO brand of "Aéroports de la Côte D'Azur" group and represents a network of 27 FBOs located at the most iconic destinations in France, Spain, Italy, Bulgaria and Portugal.
We are proud to report that 2018 was our record year with nearly 40 000 business jets movements handled in Europe. Thanks to customer trust and confidence, Sky Valet is now the leading FBO network for those countries
Our customers can now fly from Paris to Madrid, then Faro to Barcelona, and benefit from the same level of services. Our partners from Sky Valet Connect will welcome you as well at Sofia (Bulgaria), Cuneo (Italy), Trieste (Italy) and Avignon Provence (France).
Sky Valet integrated European network offers operators immediate additional benefits such as simplified operational, contractual and accounting processes.
Indeed, whilst visiting any of the Sky Valet locations, you will benefit from harmonized and reliable operations, together with customized hospitality in our state-of-the-art facilities. As our honored guest, you are assured of the highest standards and the most sophisticated services.
In a world where compromise is the rule, we know that private and business aviation must be the exception.
We will be pleased to reserve exclusive use of our terrace overlooking your aircraft at Paris-Le Bourget for a private meeting. We can as well arrange for a helicopter to be waiting for you just a few feet from your jet, ready to fly you to Saint-Tropez or Ibiza.
Our teams are all inspired by the same determination to provide aircraft owners, passengers and crews with outstanding and personalized services. To achieve this objective, they have been trained by some of the greatest professionals in the luxury industry.
We consider that certification label is also key to ensure excellence in safety and security.
To build on this success and keep delivering on our promises to customers, we will further expand the network in the next future and bring additional benefit to our customers.
So welcome to Sky Valet, a network with premium travel experience & iconic destinations