Sky Valet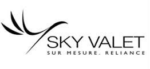 Welcome to Sky Valet, where time and attention are the most precious resources.
Sky Valet is a leading FBO network with 32 premium locations in France, Italy, Spain, Portugal and Bulgaria.

Whilst visiting any of our premises, you will benefit from harmonized and reliable operations, together with customized hospitality in our state-of-the-art facilities. As our honored guest, you are assured of the highest standards and the most sophisticated services.
For example, we will be pleased to reserve exclusive use of a lounge in Ibiza or Madrid for a private meeting. We can as well arrange for a helicopter to be waiting for you just a few feet from your jet in Cannes, ready to fly you to Saint-Tropez.
In a world where compromise is the rule, we know that private and business aviation must be the exception.
Our teams are all inspired by the same determination to customers with outstanding and personalized services.
To achieve this objective, most of our FBOs are now Safety 1st CleanTM certified to safeguard clients, corporate assets, our team members, and the general public.
Sky Valet launched "Sky Valet Connect", a sales and marketing network for independent FBOs. Sky Valet Connect members extended our network in France (Avignon Provence, Béziers Cap d'Agde, Rodez- Aveyron), Italy (Cuneo, Trieste), and Bulgaria (Omega with 5 locations).
As a result, Sky Valet is now an European FBO leader and our team will be delighted to welcome you!